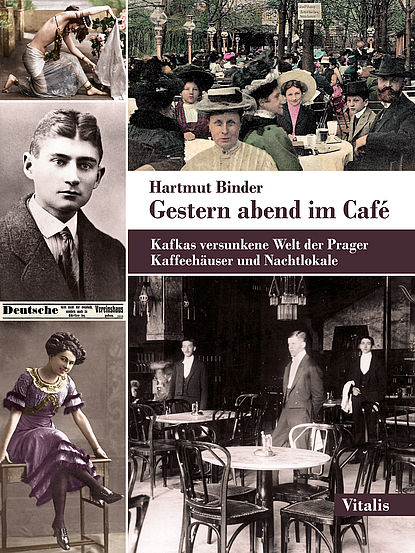 Gestern abend im Café
Kafkas versunkene Welt der Prager Kaffeehäuser und Nachtlokale
19,5 x 26 cm, 688 pages
hardback, thread-stitching, dust jacket, ribbon
ISBN 978-3-89919-460-9
In Stock
Available in
€ 79,90 (D)€ 82,30 (Ö)
This lavish edition sweeps the reader into the lost world of old imperial Prague: it includes over a thousand historic photographs and numerous lesser-known writings to build up a fascinating image of Prague's coffee houses, restaurants, cabarets and nightclubs in the waning years of the Austrian empire and the inter-war era.
Hartmut Binder strikes again and there's one thing for sure: this masterpiece must be the final word on the subject. He has spent many years studying Prague's amusements in Kafka's day and has now expanded this work into a truly fascinating handbook on a once flourishing everyday culture. Binder captures the offerings of the past on paper: over more than 600 pages, his Last night at the café documents the Prague establishments that formed the atmospheric background to Kafka's unique sense of place a century ago and more. He is not only concerned with the hundred or so coffee houses, including those that employed an orchestra to entertain their guests, but also with the restaurants, whose rooms sometimes included cabaret stages, as well as small theatres, music halls, cabarets and dance bars, the glittering nightclub scene, the brand new cinemas and, of course, Prague's Varietés, then internationally famous. He uses contemporary memories, newspaper ads and over 1000 historic illustrations, many in colour and most previously unknown, to build up the portrait of an exotically alluring city. It also features the actresses and performers, now almost entirely forgotten, who provided such excitement to their audiences.
Modern onlookers will be able to see these places for themselves because many of the buildings have survived, and the author has taken particular care with locating the venues he describes. Some of them are still in existence and others have been reopened under their original names and in their original locations –such as the Louvre, the Slavia, and the Grand Café Orient, for example. Binder's world is considerably more poetic in sepia tones, however. His magical key unlocks the door to a long-sealed room and gently awakens the Beauty sleeping on dusty plush. And when his stories begin, we see Beauty moving to the beat of the music as she did last night in the café.
"Went to the coffee house, read a few lovely things, am feeling well."
Franz Kafka