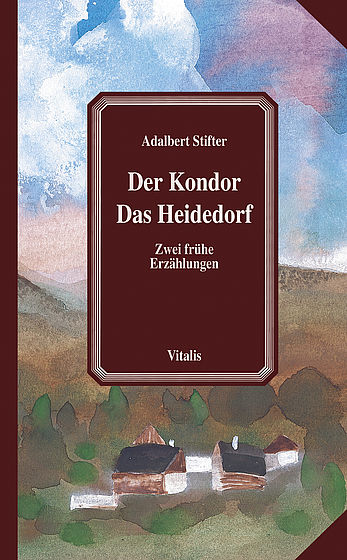 Der Kondor/Das Heidedorf
With illustrations by Karel Hruška
13 x 21 cm, 120 pages
hardback, thread-stitching, ribbon
ISBN 978-3-89919-054-0
In Stock
€ 9,90 (D)€ 10,20 (Ö)
These stories, published in 1840, brought the young Adalbert Stifter literary acclaim. He had long seen himself as a painter and scarcely reckoned with success as an author. The clear language and vivid images in these two early works, however, bear witness to Stifter's double talent. In The Condor he sets romantic, utopian fantasies down on paper – a tomcat prowls through the night, a moored balloon sweeps a girl up to dizzy heights, while a Paris art gallery is the scene of melancholy and sweet memory.
In the second novella The Village on the Heath, Stifter brings out the glowing colours of his childhood and introduces us to the landscapes and people of his home.
These two literary miniatures are key to understanding their author. They mark his transformation from painter to poet, even if he was not aware of that himself. They have lost none of their sheen to this day.