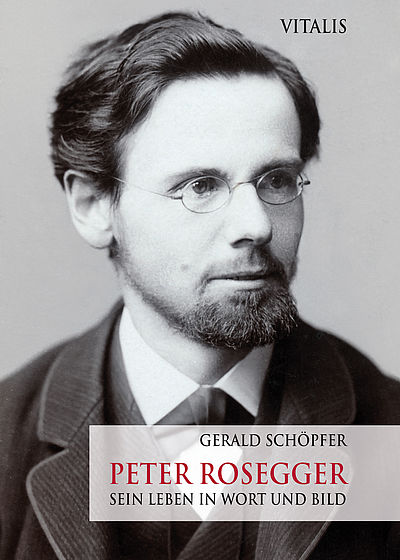 Peter Rosegger
Sein Leben in Wort und Bild
With colour illustrations throughout
15 x 21 cm, 136 pages
paperback with flaps, embossed, thread-stitching
ISBN 978-3-89919-561-3
New Edition Coming Soon
Available in
€ 19,40 (D)€ 19,90 (Ö)
Peter Rosegger embodies the dreamlike ascent from simple Alpine farm lad to the celebrated prince among poets of his days. Millions were thrilled by this self-taught man's reminiscences of his forest home, and novels such as The Writings of the Forest-Schoolmaster or Jakob the Last earned him respect as a leading 19th century novelist. For decades, he published the renowned monthly journal Der Heimgarten (The Home Garden), through which he left a wealth of primary sources on Styrian life. His books are cherished far beyond his homeland, however, and they have been translated into over 20 languages.
During his life, he was awarded many honorary doctorates and the freedom of many cities. When he passed away at his country house in Krieglach, on 26 June 1918, newspapers across the German-speaking world printed obituaries. Rosegger's death did nothing to abate the enthusiasm for his work, which remains part of the canon of Austrian literature.
This lavishly illustrated life, penned by Rosegger's biographer, Prof. Gerald Schöpfer, sketches out the key moments in the life of Styria's most famous author.